"Khuvsgul lake & Terelj national park"
Duration: 7 days, 6 nights

TRIP AT GLANCE
Day 1: Ulaanbaatar – Relax with the Remaining Day at Leisure
Day 2: Ulaanbaatar - City tour (drive)
Day 3: Ulaanbaatar- Khuvsgul (flight)
Day 4: Explore Khuvsgul lake (drive)
Day 5: Murun - Ulaanbaatar - Terelj NP and (flight)
Day 6: Terelj- Aryiabal temple-Ulaanbaatar (drive)
Day 7: Departure

What do we expect?
Learn unique Mongolian Culture
Discover Nomadic lifestyle
Spot Wild and Domestic animals
Visit and meet real Nomads
Feel true silence and wild nature
Enjoy fresh and clean air
Through where: Central, North- Western
Ideal time: June- September
Price: By request
Tour type: Private and Group
TOUR MAP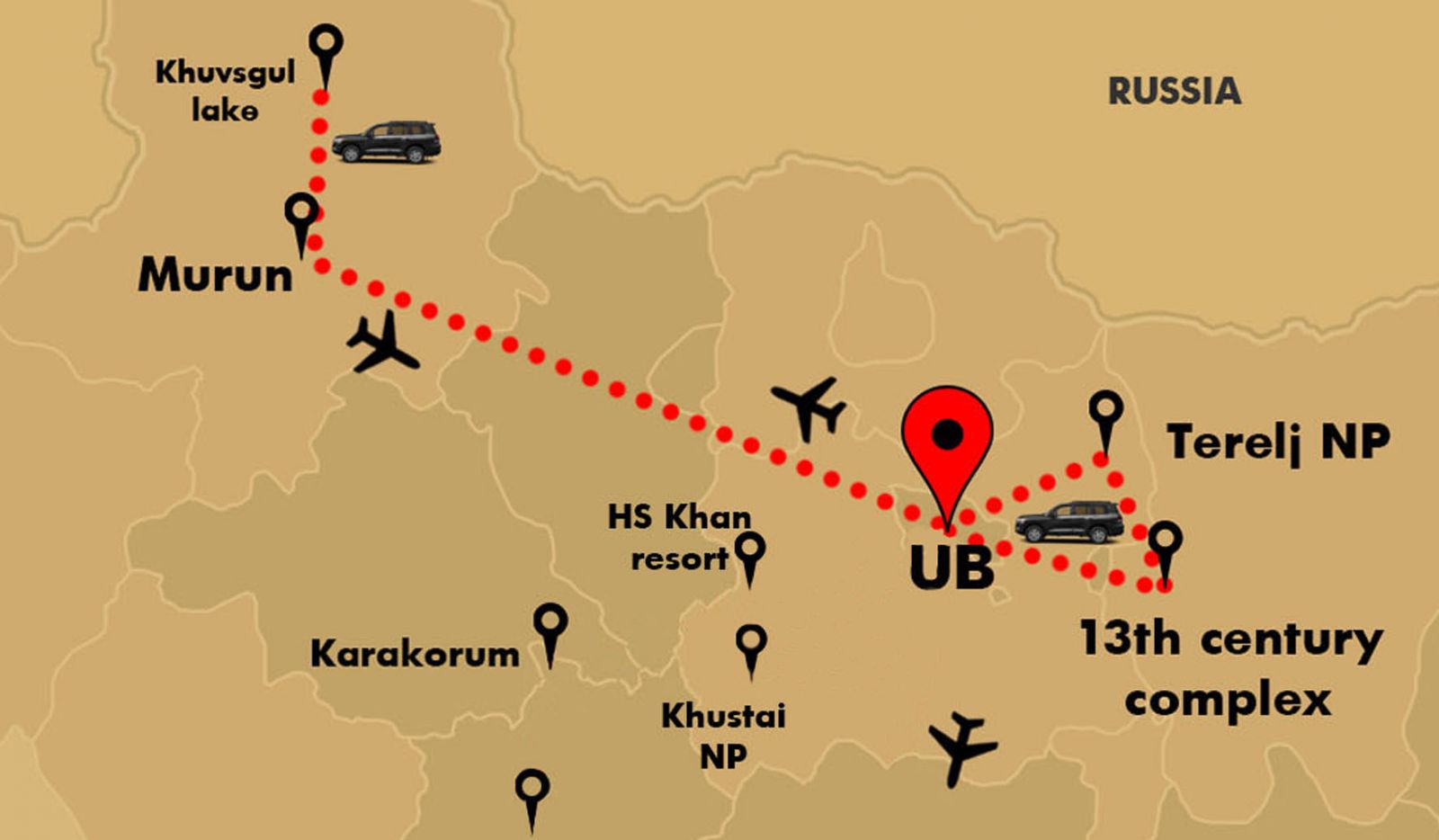 Mongolia is a quite big country. It is important to appreciate the landscape for its vastness. Rugged Mongolia is an adventure destination where travellers can see the tradition of the past still practiced today by hardy nomads dwelling on the country's vast steppe and deserts. The trip, we offering you, will give a good chance to experience their tradition, culture and way of life and hospitality. Despite the warm welcome you will receive, there are several things to explore within central part of Mongolia. For example; spectacular countryside, vast steppes, rugged mountains, clear lake, and abundant wildlife and livestock.
Day 1: Arrive in Ulaanbaatar
Friendly guide will meet you at airport upon your arrival in Ulaanbaatar city/capital of Mongolia/ and take you to the hotel you stay. The rest of day is for you to get rid of fatique and enjoy a free day. Prepare yourself, the camera with full battery, torch, suitable clothing for horse, camel riding and other stuffs.
Overnight: at the Shangri-La five star hotel or similiar
Meals: Lunch, Dinner
Day 2 - City tour
After breakfast at the hotel, an skilled guide will meet you before guiding you through Gandan Monastery, Central square, Natural History Museum and Zaisan memorial hill.
Overnight in Shangri-La five-star hotel or similiar
Meals: Breakfast, Lunch, Dinner

Day 3: Fly to Murun and drive to Blue pearl khuvsgul lake.
Heading North-West, we make our way to the stunning Khuvsgul lake what we call Khuvsgul lake. Many regard Khuvsgul as the most beautiful one. Here we take a short walk to view the excellent lake beach and with surrounding area.
Overnight in deluxe log cabin
Meals: Breakfast, Lunch, Dinner
Day 4: Journey to Khovsgol Lake
We go on our interesting trip to the Blue Pearl Khovsgol lake. Today you will do visit to Tsaatan family and take a quite walk along the mother sea shore.
Khovsgol Nuur /Lake Khovsgol/.
Khovsgol Nuur is located 101km from Murun province. The Khovsgol lake is amazing pure lake which stretches 136km deep into the Siberian taiga and the deepest lake in Mongolia as well as the world's 14th largest source of fresh water. Altitude is 1645m above sea level . The lake has 2760 square km, 133.4km long, 262m deep. Historicaly the stunning lake was formed 7 million years ago.
Stay overnigh in Deluxe log cabin
Meals: Breakfast, Lunch, Dinner
Day 5: Terelj to Ulaanbaatar
After the breakfast at the Terelj luxury hotel we will arrive Aryabal meditation temple and enjoy walking through beautyful nature. Then we will get lunch at the Terelj luxury hotel and back to Ulaanbaatar.
Aryabal meditation temple was built in 1810-s by Mongolian and Tibetan artists in Terelj National Park. In many cases Buddhist monks from Manzushir monastery came to this temple to do meditation. The temple style is more Tibetan styled like white square shaoed and white colored main building and porcelain roofs decorated with Buddhist and religious signs. In 1937-1939 Mongolian communists came to this temple and destroyed it completely and killed some monks from this temple. Later in 2000 Buddhist monks of Lamiran temple in Ulaanbaatar initiated the project to restore this temple and completed the restoration work in 2004-2007. Lamiran temple monks sometimes come to this temple and cater religious service here and in many days of year it is open place for visitors and tourists, who want to thank for the god and do meditation.
The set of 108 stone stairs will lead you to the main temple and 108 small stupas and 108 prayer wheels were placed around the temple. Moreover, signs with 144 Buddhist teachings, written in English and Mongolian, lined the sides of the path.
Overnight in Shangri-La five star hotel or similiar
Meals: Breakfast, Lunch, Dinner
Day 6:This day is for return to homeland and shopping for cashmere and souvenirs.
Stay overnigh in Blue Sky five star hotel
Meals: Breakfast, Lunch, Dinner
Day 7: Departure
We will take you to the airport. Check your items when you're leaving the hotel. Good luck for your next trip.
Meals: Breakfast
Download catalog for all tours
If you are busy then, you don't need to waste your precious time scrolling on the web. Just fill it to get it downloaded as PDF for the comprehensive details
MONGOLIAN LUXURY TRAVEL BLOG
Hello dear traveller