"Golden eagle festival & Gobi desert"
TRIP AT GLANCE
Day 1: Ulaanbaatar – Relax with the Remaining Day at Leisure
Day 2: Ulaanbaatar - City tour (drive)
Day 3: Ulaanbaatar- South Gobi including "Yol valley" (flight)
Day 4: Yol valley - Bayanzag or Flaming cliffs (drive)
Day 5: Dalanzadgad- Ulaanbaatar- Terelj NP (flight)
Day 6: Terelj -Ulaanbaatar (driving)
Day 7: Ulaanbaatar- Bayan-Ulgii province (flight)
Day 8: Golden eagle festival - Opening ceremony (drive)
Day 9: Golden eagle festival (drive)
Day 10: Visiting eagle hunting family (drive)
Day 11: Bayan-Ulgii - Ulaanbaatar (flight)
Day 12: Departure
What do we expect?
Learn unique Mongolian Culture
Discover Nomadic lifestyle
Spot Wild and Domestic animals
Visit and meet real Nomads
Feel true silence and wild nature
Enjoy fresh and clean air
Explore Eagle hunting family
Through where: Southern, Central, Western
Date: September 24 - October 04 2019/2020
Price: By request

TOUR MAP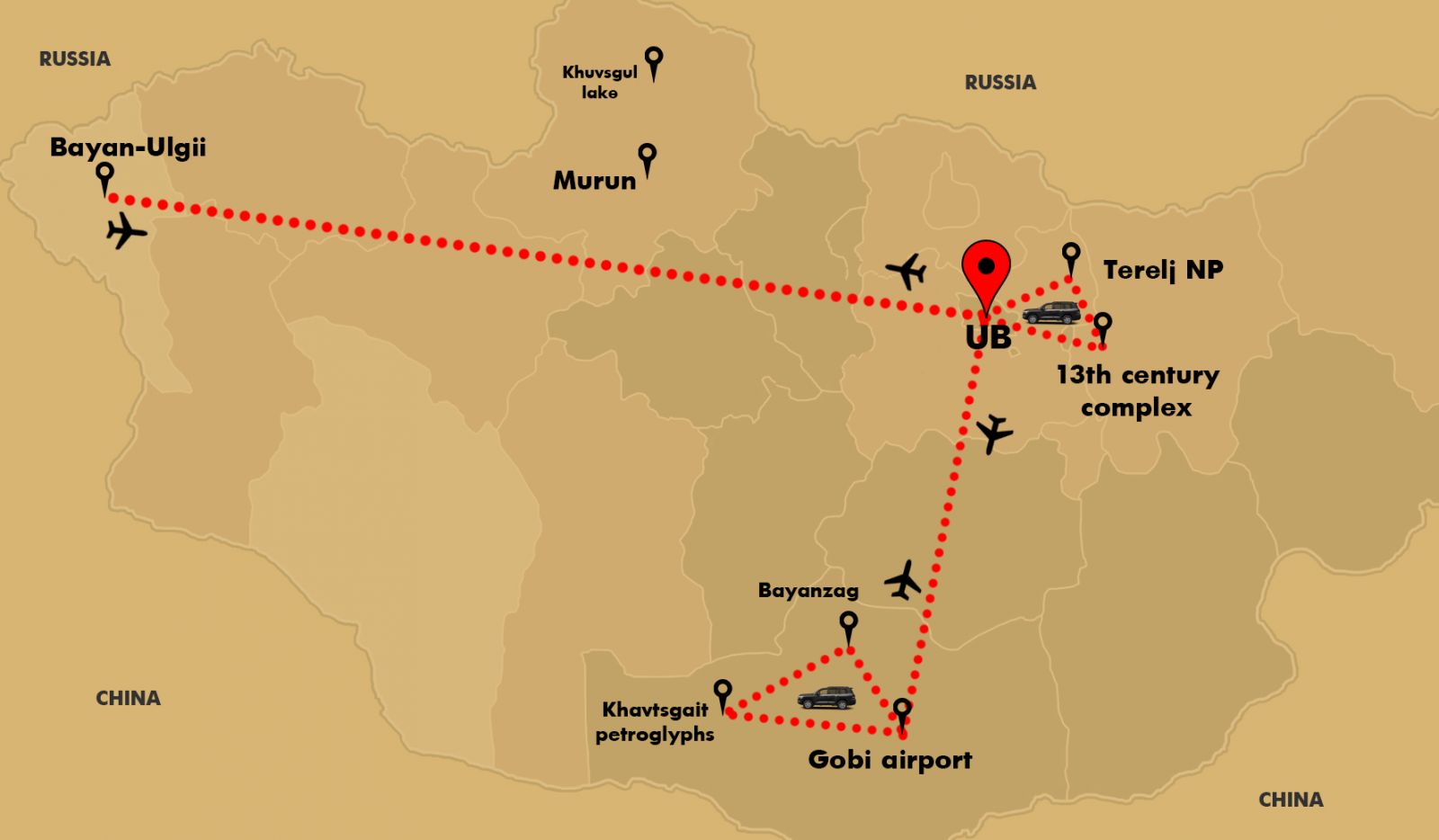 Mongolia is a quite big country. It is important to appreciate the landscape for its vastness. Rugged Mongolia is an adventure destination where travellers can see the tradition of the past still practiced today by hardy nomads dwelling on the country's vast steppe and deserts. The trip, we offering you, will give a good chance to experience their tradition, culture and way of life and hospitality. Despite the warm welcome you will receive, there are several things to explore within central part of Mongolia. For example; spectacular countryside, vast steppes, rugged mountains, clear lake, and abundant wildlife and livestock.
Arrive in Ulaanbaatar
We will meet you at airport upon your arrival in Ulaanbaatar city/capital of Mongolia/ and take you to the hotel you choose. The rest of day is for you to get rid of fatique and enjoy a free day. Prepare yourself, the camera with full battery, torch, and other stuffs/suitable clothing for horse/camel riding/.
Overnight: at the Shangri-La five star hotel or similiar
Meals: Breakfast, Lunch, Dinner
City tour
After breakfast at the hotel, an experienced tour guide will pick you up from the hotel and then we start our wonderful trip. We will visit to Gandan Monastery, Central square, Bogd khan's palace museum, Zaisan memorial hill.
Overnight in Shangri-La five star hotel or similiar
Meals: Breakfast, Lunch, Dinner

Fly to South Gobi
Early in the morning we will fly to the Dalanzadgad and drive to Yol valley. Flight will take an hour
Yoliin am /Yol valley/
This is one of the best places to encounter wild animals and wander through the majestic canyons. This is the deep and narrow canyon in the Gobi GurvanSaikhan /Gobi three beauty / mountains. In the narrowest valley is named after Lammergeyer, which is called Yol in Mongolian.
Overnight in Deluxe Ger at the Three Camel Lodge or Similiar
Meals: Breakfast, Lunch, Dinner
Day 4: This morning we head to Bayan zag /Flaming Cliffs/

Bayan zag
Bayanzag, which means 'rich in saxaul shrubs', is more commonly known as the 'Flaming Cliffs', a name penned by the paleontologist Roy Chapman Andrews. First excavated in 1922, it is best-known worldwide for the number of dinosaur bones and eggs found in the area, which you can see in museums around the world. Even if you are not a 'dienophile', the beauty of the surrounding landscape is a good reason to visit. It's a classic desert of rock, red sands, scrub, sun and awesome emptiness. Bayanzag is around 90km from Dalanzadgad. Stay overnight may in the tent if the weather is fine
Overnight in comfort Ger camp
Meals: Breakfast, Lunch, Dinner
Day 5: Today we will fly to Ulaanbaatar. Then drive to Terelj and 13th Century complex.
Terelj National Park located 75 km on the side, on the way you will explore Ovoo-the pile of sacred stones, according to the local legend, espirit of nature dwells in the heaped Rocks which was set for god of nature and blue sky. Terelj National Park is Mongolian's best known national park for good reason, it was created in 1965, popular among the Mongolians for its magnificent granite rocky hills, rock formation especielly Turtle Rock and the green forests.On the way to park you will visit to Biggest Equestrian Statue in the world /Chingis Khaan/, and 13th century complex.
Overnight in Terelj luxury hotel
Meals: Breakfast, Lunch, Dinner
Day 6: Terelj to Ulaanbaatar
After the breakfast at the Terelj luxury hotel we will arrive Aryabal meditation temple and enjoy walking through beautyful nature. Then we will get lunch at the Terelj luxury hotel and back to Ulaanbaatar.
Aryabal meditation temple was built in 1810-s by Mongolian and Tibetan artists in Terelj National Park. In many cases Buddhist monks from Manzushir monastery came to this temple to do meditation. The temple style is more Tibetan styled like white square shaoed and white colored main building and porcelain roofs decorated with Buddhist and religious signs. In 1937-1939 Mongolian communists came to this temple and destroyed it completely and killed some monks from this temple. Later in 2000 Buddhist monks of Lamiran temple in Ulaanbaatar initiated the project to restore this temple and completed the restoration work in 2004-2007. Lamiran temple monks sometimes come to this temple and cater religious service here and in many days of year it is open place for visitors and tourists, who want to thank for the god and do meditation.
The set of 108 stone stairs will lead you to the main temple and 108 small stupas and 108 prayer wheels were placed around the temple. Moreover, signs with 144 Buddhist teachings, written in English and Mongolian, lined the sides of the path.
Overnight in Shangri-La five star hotel or similiar
Meals: Breakfast, Lunch, Dinner
Day 7: This morning we will fly to Ulgii, Mongolia's westernmost province. / The flight takes 2.5 hours /
After we arrived in Bayan-Olgii we will visit Ulgii town to visiting local Museum and explore local market.
Bayan-Ulgii is located in the extreme west of the country, and shares borders with both Russia and China. The border between the two neighbouring countries is very short here, though, and ends after about 40 km at the eastern end of Kazakhstan. Within Mongolia, the neighbouring aimags are Uvs in the north east and Khovd in the south east. Bayan-Ölgii is the highest Mongolian aimag. For the most part it is located in the Mongolian Altay, at the transition point to the Russian Altay. About 10% of the territory is covered by forests, consisting primarily of Siberian Larch.
The Nairamdal Peak (also Friendship Peak ) of the Altai Tavan Bogd (five saints mountain) massif mountain marks the corner between the three neighbouring countries. About 2.5 km further south on the Mongolian-Chinese border, the Khüiten Peak is the highest point of Mongolia at a height of 4,374 m. The massif includes several glaciers, such as the 19 km Potanin Glacier, and is only accessible to experienced climbers with local guidance.
Overnight in Hotel or Ger camp
Meals: Breakfast, Lunch, Dinner
Day 8: Golden eagle festival opening ceremony.

The golden eagle festival is held annualy in Bayn-Olgii province as organized event. During the Golden Eagle festivel, they celebrate this festival to show their ancester's heritage competing each other with their well-trained eagles that catch small animals, such as hares, fox even wolves. By doing this, they both show their skills and abilities. Prizes are awarded for their speed, agility, and accuracy, as well as best traditional Kazakh dress and more.
Stay overnigh in Hotel
Meals: Breakfast, Lunch, Dinner
Day 9: Second day of Golden eagle festival
The Eagle Festival is held during the first weekend in October, run by the Mongolian Eagle Hunter's Association. Dark, rocky mountainous terrain forms the backdrop to the festivities, which incorporate an opening ceremony, parade, cultural exhibitions, demonstrations and handcrafts in the centre of the town of Ölgii, followed by sporting activities and competitions 4 kilometres (2.5 mi) outside of town towards the mountains. Dressed in full eagle hunting regalia and mounted on groomed decorated horses, the entrants compete for the awards of Best Turned Out Eagle and Owner; Best Eagle at Hunting Prey and Best Eagle at Locating Its Owner from a Distance. Other sporting activities include horse racing, archery and the highly entertaining Bushkashi - goatskin tug of war on horseback. The Eagle Festival is featured in the 2016 documentary The Eagle Huntress, in which the 13-year-old Kazakh girl Aisholpan becomes the first female to enter and win the competition.
Stay overnigh in Hotel
Meals: Breakfast, Lunch, Dinner
Day 10: Visiting eagle hunting family
With only around 400 traditional eagle hunters left in the world, the custom is precious and unless your father was an eagle hunter, you cannot become one. "They have to endure many hours of horse riding with a 7 to 9kg golden eagle on their arms in extremely cold weather." Each eagle is taken from the wild at a young age - either straight from the nest or once the mother has taught them basic hunting skills - and hunters will embark on rigorous training to hone their skills. "As soon as the eagle reaches 10-years-old - half of their life expectancy - they are returned to nature to breed again and have a normal life with another eagle." Only female eagles are used for hunting as they tend to be bigger, stronger, more agile and far more focussed while hunting down their prey.
Stay overnigh in Hotel or Ger camp
Meals: Breakfast, Lunch, Dinner
Day 11: Fly back to Ulaanbaatar
Having stayed overnight at the Ulgii, we will fly back to Ulaanbaatar leaving amazing land of Eagle hunters. All you have to do is to sit back, relax and enjoy your journee. This day is for return to homeland and shopping for cashmere and souvenirs.
Stay overnigh in five stars hotel
Meals: Breakfast, Lunch, Dinner
Day 12: Departure
We will take you to the airport. Check your items when you're leaving the hotel. Good luck for your next trip.
Meals: Breakfast
Mongolia was my dream and it became a reality during last summer, I came back amazed by the beauty of the landscapes, by unexpected encounters the kindness and hospitality of the Mongols who without knowing us, invited in their yurt to offer us some delicious salty tea or a party - and it was thanks to our guide, professionalism, sense of discovery and resourcefulness that we had a great time and have benefited from every moment. Our guide Bayaraa had planned everything: local and delicious food, accommodation with nomads or bivouac in landscapes of breathtaking beauty and all in good mood. I dream to go back because Mongolia is great and there is so much to discover. Long live Bayaraa and "Nomadic of Blue Sky" team.
I was delighted with the trip to Mongolia, which you organized for us; discovery of the west which is very interesting, and especially of various sites, lakes, villages where we were welcomed in the yurts, by cattle breeders, with a lot of warmth and kindness, approaching the snow-capped mountains, and glaciers !! an endearing nature, as evidenced by the beautiful photos I made, and those received from Sylvie. The beautiful show we saw, beautiful dances and costumes ..! and then all these small markets more attractive than each other, which allowed us to make pleasant purchases .. the day also shop which sealed the end of our trip, and allowed us to bring back beautiful cashmere sweaters ... I'm not referring to your kitchen which was very good, you had to camp the stove and set the table, for the hungry we were !! The essential, however, will remain your kindness, your availability, your competence, and your dynamism !! It was a total success!
We made a three-week trip in 4X4, in the far west of the country, we were 7 people. We can only rent Nomadic of Blue Sky services, both organizationally and materially. Always in a good mood, attentive and positive, always busy to solve small problems. I would add that he/Bayaraa/ was very good French. Thanks to him, there was a great atmosphere. He has great knowledge of him country both culturally and geographically.
Download catalog for all tours
If you are busy then, you don't need to waste your precious time scrolling on the web. Just fill it to get it downloaded as PDF for the comprehensive details
MONGOLIAN LUXURY TRAVEL BLOG
Hello dear traveller