ABOUT TOUR
Mongolia is a quite big country. It is important to appreciate the landscape for its vastness. Rugged Mongolia is an adventure destination where travellers can see the tradition of the past still practiced today by hardy nomads dwelling on the country's vast steppe and deserts. The trip, we offering you, will give a good chance to experience their tradition, culture and way of life and hospitality. Despite the warm welcome you will receive, there are several things to explore within central part of Mongolia. For example; spectacular countryside, vast steppes, rugged mountains, clear lake, and abundant wildlife and livestock.
TRIP AT GLANCE
Day 1: Ulaanbaatar – Relax with the Remaining Day at Leisure
Day 2: Ulaanbaatar - City tour (drive)
Day 3: Ulaanbaatar- Terelj NP and "13th Century Complex" (drive)
Day 4: Terelj- Aryiabal temple-Ulaanbaatar (drive)
Day 5: Ulaanbaatar- South Gobi including "Yol valley" (flight)
Day 6: Yol valley- Khongor sand dune (drive)
Day 7: Khongor- Bayanzag or Flaming cliffs (drive)
Day 8: Flaming cliffs- Khavtsgait rock art- Dalanzadgad (drive)
Day 9: Dalanzadgad- Ulaanbaatar- Khogno Khan (flight)
Day 10: Khogno Khan- Orkhon valley (drive)
Day 11: Okhon valley- Khahorin (drive)
Day 12: Kharhorin- Ulaanbaatar (drive)
Day 13-14: Ulaanbaatar- Khuvsgul (flight)
Day 15: Khuvsgul- Ulaanbaatar (flight)
What do we expect?
Learn unique Mongolian Culture
Discover Nomadic lifestyle
Spot Wild and Domestic animals
Visit and meet real Nomads
Feel true silence and wild nature
Enjoy fresh and clean air
Through where: Southern, Central, North- Western
Ideal time: May- September
Price: By request
Tour type: Private and Group
TOUR MAP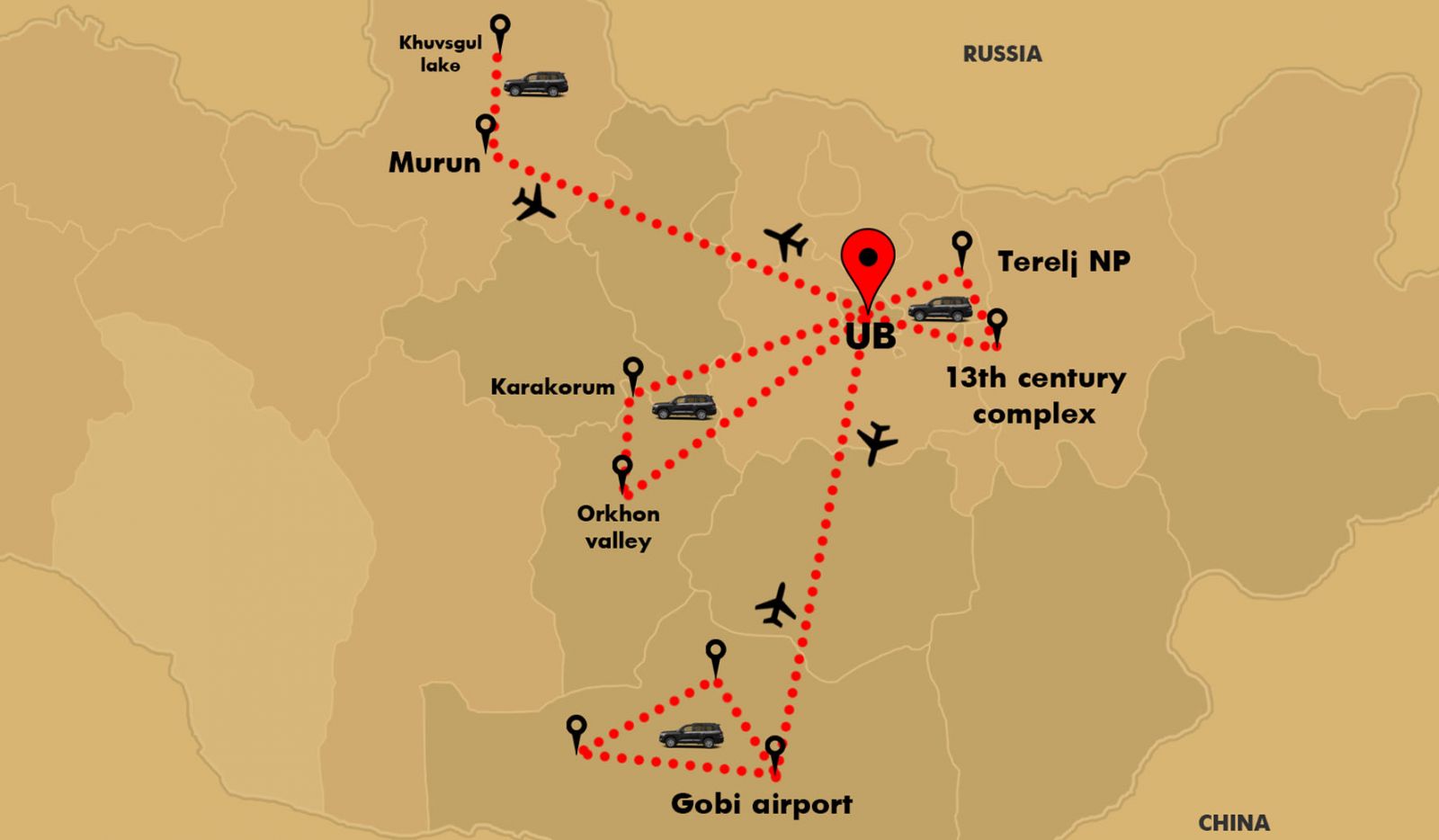 Day 1: Arrive in Ulaanbaatar
We will meet you at airport upon your arrival in Ulaanbaatar city/capital of Mongolia/ and take you to the hotel you choose. The rest of day is for you to get rid of fatique and enjoy a free day. Prepare yourself, the camera with full battery, torch, and other stuffs/suitable clothing for horse/camel riding/.
Overnight: at the Shangri-La five star hotel or similiar
Meals: Breakfast, Lunch, Dinner
Day 2 - City tour
After breakfast at the hotel, a experienced guide will pick you from the hotel and then we start our wonderful trip. We will visit to Gandan Monastery, Central square, Bogd khan's palace museum, Zaisan memorial hill.
Overnight in Shangri-La five star hotel or similiar
Meals: Breakfast, Lunch, Dinner

Day 3: Ulaanbaatar to Terelj and 13th Century complex
After breakfast our experienced driver and guide will pick you up from the hotel you stay. Then we will head to Terelj National Park located 75 km on the side, on the way you will explore Ovoo-the pile of sacred stones, according to the local legend, espirit of nature dwells in the heaped Rocks which was set for god of nature and blue sky. Terelj National Park is Mongolian's best known national park for good reason, it was created in 1965, popular among the Mongolians for its magnificent granite rocky hills, rock formation especielly Turtle Rock and the green forests.On the way to park you will visit to Biggest Equestrian Statue in the world /Chingis Khaan/, and 13th century complex.
Overnight in Terelj luxury hotel
Meals: Breakfast, Lunch, Dinner
Day 4: Terelj to Ulaanbaatar
After the breakfast at the Terelj luxury hotel we will arrive Aryabal meditation temple and enjoy walking through beautyful nature. Then we will get lunch at the Terelj luxury hotel and back to Ulaanbaatar.
Aryabal meditation temple was built in 1810-s by Mongolian and Tibetan artists in Terelj National Park. In many cases Buddhist monks from Manzushir monastery came to this temple to do meditation. The temple style is more Tibetan styled like white square shaoed and white colored main building and porcelain roofs decorated with Buddhist and religious signs. In 1937-1939 Mongolian communists came to this temple and destroyed it completely and killed some monks from this temple. Later in 2000 Buddhist monks of Lamiran temple in Ulaanbaatar initiated the project to restore this temple and completed the restoration work in 2004-2007. Lamiran temple monks sometimes come to this temple and cater religious service here and in many days of year it is open place for visitors and tourists, who want to thank for the god and do meditation.
The set of 108 stone stairs will lead you to the main temple and 108 small stupas and 108 prayer wheels were placed around the temple. Moreover, signs with 144 Buddhist teachings, written in English and Mongolian, lined the sides of the path.
Overnight in Shangri-La five star hotel or similiar
Meals: Breakfast, Lunch, Dinner
Day 5: Ulaanbaatar to Gobi
Early in the morning we will fly to the Dalanzadgad and drive to Yol valley. Flight will take an hour
Yoliin am /Yol valley/
Yoliin Am is located 45km from province of Dalanzadgad. Altitude is 2800m from sea level. This is one of the best places to encounter wild animals and wander through the majestic canyons. This is the deep and narrow canyon in the Gobi GurvanSaikhan /Gobi three beauty / mountains. In the narrowest valley is named after Lammergeyer, which is called Yol in Mongolian. The Lammergeyer is old world Vulture. In there you can see 1-1.5m tick ice in the middle of gorges where it barely gets sunshine during summer time and the sky looks pretty narrow line between canyons.
Overnight in Deluxe Ger at the Three Camel Lodge or Similiar
Meals: Breakfast, Lunch, Dinner
Day 6: Yol valley to Khongor sand dune
After brakfast We will drive approximately 4-5 hours by comfort 4WD vehicle to the Khongor sand dune.
Khongor sand dune
After having a breakfast, we will be heading to the Khongor Sand Dunes situated around 120 km from Yoliin Am. Often called as the singing dunes and surrounded with massive mountains. The site is amazing. Khongor Sand Dunes are some of the largest and most spectacular sand dunes in Mongolia. Reaching to the top of sand hill will be exhausting and around 40 minutes to one hour. but the views of the desert from the sundy summet are breathtaking. The sand dunes are a great place for riding camel so we take camel ride there. May stay overnight in the tent if weather is fine.
Overnight in the comfort Ger camp
Meals: Breakfast, Lunch, Dinner
Day 7: This morning we head to Bayan zag /Flaming Cliffs/
Bayan zag
Bayanzag, which means 'rich in saxaul shrubs', is more commonly known as the 'Flaming Cliffs', a name penned by the paleontologist Roy Chapman Andrews. First excavated in 1922, it is best-known worldwide for the number of dinosaur bones and eggs found in the area, which you can see in museums around the world. Even if you are not a 'dienophile', the beauty of the surrounding landscape is a good reason to visit. It's a classic desert of rock, red sands, scrub, sun and awesome emptiness. Bayanzag is around 90km from Dalanzadgad. Stay overnight may in the tent if the weather is fine
Overnight in comfort Ger camp
Meals: Breakfast, Lunch, Dinner
Day 7: After breakfast at the Ger camp we drive to Khavtsgait rock art

Khavtsgait rock art
One of many great attractions in the Gobi desert. This rock painting located at the Boginin Khyar ridge to the west of the Gobi Gurvan Saikhan Mountain Range, where you can see well preserved petroglyphs of ibexes, horses, camels, and depictions of ancient man drawing their bow and arrow. Here you will do a wonderful hiking trail.
Overnight in comfort Ger camp
Meals: Breakfast, Lunch, Dinner
Day 9: Today we will fly to Ulaanbaatar. Then drive to Khugnu Khan.

Khugnu khan uul nature reserve
The 469-sq-km Khögnö Khan Uul Nature Reserve (Хөгнө Хан Уул) centres on a large, boulder-strewn rocky mountain that rises up surreally from its semidesert surrounds. The arid terrain is good for short hikes (there's plenty of rock clambering to be done), and there are old temples to explore, both ruined and active. In terms of wildlife, as well as majestic red deer, you might also spot ibexes, various varieties of hawk, and even wolves.

Overnight in comfort Ger camp
Meals: Breakfast, Lunch, Dinner
Day 10: After breakfast we will drive to Orkhon Khurhree
Orkhon Khurhree /Waterfall/
Orkhon valley is one of the top sights in central Mongolia. Orkhon river flows untill Russien border where it joins with the Selenge Murun/Bigger river/. It streches 1,120km. Orkhon Khurhree is located in the popular Orkhon Valley, better-known for its past rich history. Around three hours' drive from Khujirt. Orkhon Valley had been formed by volcanic eruption. It is 22m deep.
About 250m downstream from waterfall.
Overnight in comfort Ger camp
Meals: Breakfast, Lunch, Dinner
Day 11: Today We will drive to ancient capital of Mongolia. On the way you'll explore the magical place Tovhon khiid /temple/ which was founded in 1653 by Zanabazar.
Karakorum
In the mid-13th century, Karakorum was a happening place. ChinggisKhaan established a supply base here and his son Ogedei ordered the construction of a proper capital, a decree that attracted traders, dignitaries and skilled workers from across Asia and even Europe. The good times lasted around 40 years until Kublai moved the capital to Khanbalik (later called Beijing), a decision that still incites resentment among some Mongolians. Following the move to Beijing and the subsequent collapse of the Mongol empire, Karakorum was abandoned and then destroyed by vengeful Manchurian soldiers in 1388. Whatever was left of Karakorum was used to help build, in the 16th century, the enormous monastery, Erdene Zuu monastery, which itself was badly damaged during the Stalinist purges. The rather nondescript Soviet-built town of Karakorum was built a couple of kilometers away from Erdene Zuu Khiid, and there is little of interest in the town itself

Overnight in the comfort Ger camp
Meals: Breakfast, Lunch, Dinner
Day 12: Back to Ulaanbaatar
Today we will drive back to UB. Driving time from Kharkhorin to Ulaanbaatar will be majority of the day. All you have to do is sit back, relax and enjoy your journee.

Overnight in Blue Sky five star hotel
Meals: Breakfast, Lunch, Dinner
Day 13:Fly to Murun and drive to Blue pearl khuvsgul lake.


Overnight in comfort Ger camp
Meals: Breakfast, Lunch, Dinner
Day 14: Journey to Khovsgol Lake
We go on our interesting trip to the Blue Pearl Khovsgol lake. Today you will do visit to Tsaatan family and take a quite walk along the mother sea shore.
Khovsgol Nuur/Lake Khovsgol/.
Khovsgol Nuur is located 101km from Murun province. The Khovsgol lake is amazing pure lake which stretches 136km deep into the Siberian taiga and the deepest lake in Mongolia as well as the world's 14th largest source of fresh water. Altitude is 1645m above sea level . The lake has 2760 square km, 133.4km long, 262m deep. Historicaly the stunning lake was formed 7 million years ago.
Stay overnigh in Art 88 tourist camp
Meals: Breakfast, Lunch, Dinner
Day 15: Back to Ulaanbaatar
Having stayed overnight at the lake, we will fly back to Ulaanbaatar leaving blue pearl. All you have to do is to sit back, relax and enjoy your journee. This day is for return to homeland and shopping for cashmere and souvenirs.
Stay overnigh in Blue Sky five star hotel
Meals: Breakfast, Lunch, Dinner
Day 16: Departure
We will take you to the airport. Check your items when you're leaving the hotel. Good luck for your next trip.
Meals: Breakfast
Mongolia was my dream and it became a reality during last summer, I came back amazed by the beauty of the landscapes, by unexpected encounters the kindness and hospitality of the Mongols who without knowing us, invited in their yurt to offer us some delicious salty tea or a party - and it was thanks to our guide, professionalism, sense of discovery and resourcefulness that we had a great time and have benefited from every moment. Our guide Bayaraa had planned everything: local and delicious food, accommodation with nomads or bivouac in landscapes of breathtaking beauty and all in good mood. I dream to go back because Mongolia is great and there is so much to discover. Long live Bayaraa and "Nomadic of Blue Sky" team.
I was delighted with the trip to Mongolia, which you organized for us; discovery of the west which is very interesting, and especially of various sites, lakes, villages where we were welcomed in the yurts, by cattle breeders, with a lot of warmth and kindness, approaching the snow-capped mountains, and glaciers !! an endearing nature, as evidenced by the beautiful photos I made, and those received from Sylvie. The beautiful show we saw, beautiful dances and costumes ..! and then all these small markets more attractive than each other, which allowed us to make pleasant purchases .. the day also shop which sealed the end of our trip, and allowed us to bring back beautiful cashmere sweaters ... I'm not referring to your kitchen which was very good, you had to camp the stove and set the table, for the hungry we were !! The essential, however, will remain your kindness, your availability, your competence, and your dynamism !! It was a total success!
We made a three-week trip in 4X4, in the far west of the country, we were 7 people. We can only rent Nomadic of Blue Sky services, both organizationally and materially. Always in a good mood, attentive and positive, always busy to solve small problems. I would add that he/Bayaraa/ was very good French. Thanks to him, there was a great atmosphere. He has great knowledge of him country both culturally and geographically.
Download catalog for all tours
If you are busy then, you don't need to waste your precious time scrolling on the web. Just fill it to get it downloaded as PDF for the comprehensive details
MONGOLIAN LUXURY TRAVEL BLOG
Hello dear traveller